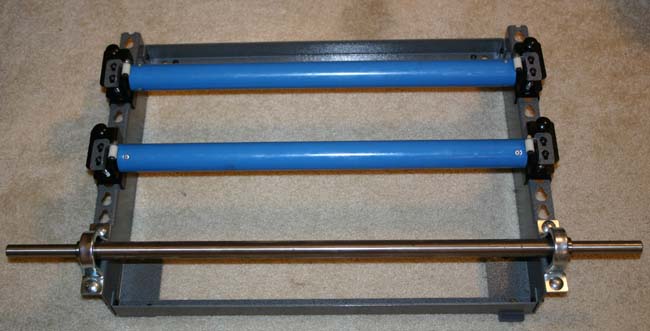 The cleaning machine works on the same principle as a rock tumbler. It has two parallel bars running horizontally that act as a "cradle" for the cleaning canisters.
The machine is designed for rugged durability and minimal maintenance. The entire machine is constructed of quality heavy duty components. The drive bar is constructed of 3/4" stainless steel bar sleeved in vinyl tubing. The unit uses maintenance-free, self-aligning ball bearing pillow blocks. The bearing unit is encased in a nonconductive, oil-resistant rubber liner which corrects misalignment while reducing noise and vibration. The idler is a 1 3/8" conveyor roller sleeved in vinyl tubing. This machine should provide many years of tough service.
The machine is available with or without a motor package. The motor package includes a new motor (one or two speed), an adjustable mounting channel for belt tension, an on/off toggle switch, v-belt, pulleys, and the electrical cord. The standard motor is 1/3 h.p., 1725 rpm which can handle 10 - 12 canisters. The two -speed package also contains a second set of pulleys and a jack-shaft assembly that sets between the motor and the machine giving the 2-speed capability. The one speed (fast : 65 - 85 rpm) is for round glass. The additional second speed (slow: 20 - 35 rpm) must be used to safely clean any other shapes (square, oval, rectangle, paneled, etc.).
The Platinum machine is available in two models:
1) Small - has a maximum capacity of any combination of canister sizes that add to not more than 13 (i.e. 3-4") (1-3", 1-4", 1-5") (2-4", 1-5") etc.

2) Large - has a maximum capacity of any combination of canister sizes that add to not more than 25 (i.e. 6-4") (2-6", 3-4") (2-5", 2-4", 2-3") etc.

Both of which can be enlarged to meet your needs by adding more units (or modules), utilizing back or side kits. These modules can turn at different speeds while running simultaneously attached to only one motor.
The Silver Economy machine is a small machine that will hold 20" long canisters and has the capacity of 12" worth of canister diameters.